Post by Lily Highsmith on Jun 8, 2013 21:08:27 GMT -7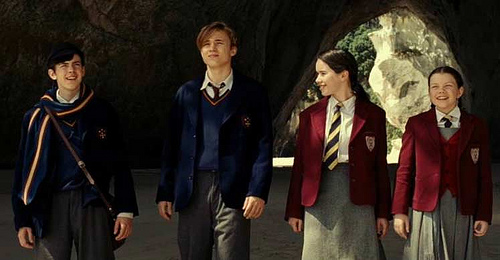 This is the Highsmith family, previously the Shadowhunter family in charge of the Seattle Institute but who recently moved to Alicante. From left to right, James, William, Annabeth, and Lily. I play Lily and I would LOVE to have the rest of her family on the site too!! I'd like for the play bys to match the ones in the picture, because there are lots of pictures of them together from the Narnia movies.
So James is the youngest of the Highsmith boys at sixteen years old. He and Lily used to follow the older ones around, determined not to be left out of the excitement. I think that this close relationship would continue through the teenage years but it's up to you and how you see his character developing. I'd like for his face claim to be Skandar Keynes.
At nineteen, William is the oldest of the Highsmith children and the heir. He's currently a member of the Clave and is fighting on their side, though how he feels about that is up to you. The Highsmiths were called back to Idris mostly because he and Gabriel were of age and because Annabeth and James were getting close to that age. Personality and everything else is up to you. The preferred play by is William Moseley.
Annabeth is seventeen and the oldest Highsmith girl. I kinda imagined her to be gentler and quieter than Lily though that's negotiable. She's Lily's only sister and is her role model, since their parents were often caught up in their fights. Her preferred play by is Anna Popplewell.
This is the final Highsmith child, Gabriel. He's eighteen years old and the second oldest of all the children. There's a secret surrounding his birth though, he's actually the illegitimate child that resulted from an affair between Annamarie Highsmith and Robert Lightwood. The only person who knows the truth is Annamarie although Richard has his suspicions, and what with the Highsmiths moving to Alicante things are bound to get interesting!! It's up to whoever takes him as to whether or not he's considered the fact that he's not really a Highsmith. Although, Richard does treat hima little more harshly than he does the other children.
His play by is just a suggestion, you're welcome to change it if you like.
So, if you're interested just let me know!! PM, replying to this thread or even just popping into the shoutbox works. Here's
Lily's app
if you'd like more background.